Merry Christmas
From the Members and Staff at ILWU Local 52

ilwu52.com
Supercargo, Supervisors and Marine Checkers
Washington State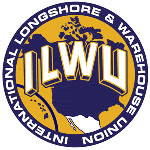 "An injury to one is an injury to all"




Announcements!
Meetings
Executive Board
December 10 2013 @ 5:30 PM
January 7, 2014 @ 5:30 PM

Stopwork Meeting
January 9th 2014@ 6:00 PM
Coming Holidays
Christmas Eve
December 24, 2013
(Working Holiday)
Christmas Day
December 25, 2013
(Non-working Holiday)
New Years Eve
December 31, 2013
(Working Holiday)
New Years Day
January 1, 2014
(Non-working Holiday)

News!
Final Election results will be posted at job sites
With Port (of Seattle) just at half capacity, terminal operators want talks
Faced with continuing decline in shipping business, the Port of Seattle and its three terminal operators are asking the federal government to approve meetings about restructuring leases.

Click here to read the complete story at the seattletimes.com

Labor News!
Boeing Blackmails Washington Workforce on 777X Production
Thirty-one thousand Machinists in Washington state were stunned to learn last week that their union had been talking with Boeing for at least two months about opening their contract for concessions to ensure that the next generation 777X plane would be built in Washington.
Click here to read full story at truth-out.org
LINKS

Modified 11.29.2013